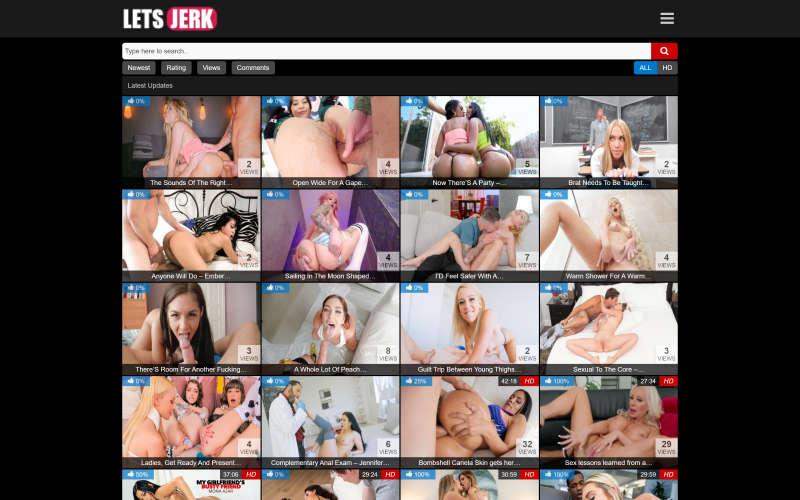 cons
not enough search options

copyright infringement?

a few ads

the media player could buff the videos a little bit faster

no video tags
Mastering the art of creating the perfect porn site isn't just about quantity, but also quality. Does LetsJerk get that? Let's find out!
First off, LetsJerk is a general videos site. The "general" part of the description means that the content of LetsJerk is non-specialized.
What you'll find on the site are complete scenes only. The scenes can be stand-alone, or part of a movie. I will not play the suspense here. I will already tell you this: at the end of the day, LetsJerk is an okay site. In short, it has some nice things to offer.
Also, you will not ruin yourself, LetsJerk is a free site. Now, we should jump straight into the action and see what we're dealing with here.
Site features
We will get started with the site layout. As soon as I arrived on LetsJerk's home page, the first thing I noticed was how conventional the design was. It has all the usual sections you see everywhere. Simple and insipid. But it gets the job done and that is all we need right? After all, let's be honest here, all we want is some good porn.
You don't get any preview if you hover over a thumbnail with your mouse. This may seem like a small, nitpicky thing, but it really is annoying when you're trying to find the right video to fap to.
Additionally, the media player is OK I guess. Nothing exceptional here. A decent loading speed. Not too many errors while streaming the videos. Just what you might expect from the average media player.
Although the ads could certainly be much worse, obviously the ideal situation would be no ads at all. Nonetheless, it's not a deal-breaker, but they were annoying nonetheless. Sure, you may have a couple of ads to ignore here and there, but, still, that seems like a small price to pay.
The site is only available in English.
Now, let's have a look at one of the most important features a porn site must implement: the search feature.
To begin with, a search bar lets you have a break from the site navigation. The results can be filtered only by video-quality. The sorting options available are upload-date, rating and views.
The content is split into categories but there is no tagging system in place. And you cannot build playlists either.
All things considered, on LetsJerk the search feature is fairly average to say the least. In fact, it is so bad that it may take hours to find the video you are looking for. And you may even end up not finding it! This is definitely a feature they should be working on.
LetsJerk content
How about the quality of the videos? Are there rotting links? Are there many videos here? Those are the questions I am about to answer.
As I mentioned earlier, LetsJerk does not specialize in a particular porn niche and, for the most part, its content consists of full scenes. Also, LetsJerk doesn't have Gay or Shemale sections like you'll find on a lot of other tube sites.
All in all, the content is good. It's really good. Well, if you're the type of person that likes to watch content that's of some really high quality, then you'll love the videos on here. They're mostly centered around this high production value type of content. Don't we all love premium porn? Also, the average video resolution is OK.
As the site's content is mostly full scenes, what you will not find here are too many cheap short videos. It sure smells like quality porn in here!
The video catalog is immense. You should not run out of content to watch too quickly.
Is LetsJerk a good site?
All in all, I think LetsJerk is quite a good free porn site.
Its main selling point is the premium porn. At the same time, the site has a second-class search feature, content that may not be totally legal, ads that can get somewhat annoying, a basic video player, and no tags whatsoever.
All of that being said, LetsJerk has everything you need for a really good porn experience. Enjoy!
LetsJerk desktop
LetsJerk mobile
LetsJerk infos
tags

general site

streaming

orientations

straight

gay

shemale

Content Types

videos

tubes

scenes

Business Model

free

languages

English

Content Self Hosting

true

Preview On Hover

none

Sort By

upload-date

rating

views

Search Operator

AND

Grouping Features

categories

pornstars
LetsJerk
Hornybutt
Gimmeporn.xyz
UPornia
PornTry
DaftSex
Rating

LetsJerk:

4.9

Hornybutt:

6.1

Gimmeporn.xyz:

6.4

UPornia:

6.9

PornTry:

6.4

DaftSex:

6.3
Content Quality

LetsJerk:

9

Hornybutt:

9

Gimmeporn.xyz:

9

UPornia:

8

PornTry:

9

DaftSex:

8
Content Quantity

LetsJerk:

5

Hornybutt:

5

Gimmeporn.xyz:

5

UPornia:

7

PornTry:

7

DaftSex:

8
Unavailable Content

LetsJerk:

5

Hornybutt:

7

Gimmeporn.xyz:

6

UPornia:

8

PornTry:

8

DaftSex:

6
Search

LetsJerk:

3

Hornybutt:

6

Gimmeporn.xyz:

6

UPornia:

6

PornTry:

5

DaftSex:

3
Player Quality

LetsJerk:

4

Hornybutt:

5

Gimmeporn.xyz:

6

UPornia:

7

PornTry:

8

DaftSex:

6
Site Layout

LetsJerk:

5

Hornybutt:

5

Gimmeporn.xyz:

7

UPornia:

7

PornTry:

7

DaftSex:

7
Annoying Ads

LetsJerk:

4

Hornybutt:

6

Gimmeporn.xyz:

6

UPornia:

5

PornTry:

3

DaftSex:

6
Piracy

LetsJerk:

3

Hornybutt:

5

Gimmeporn.xyz:

5

UPornia:

6

PornTry:

4

DaftSex:

4
Love Factor

LetsJerk:

6

Hornybutt:

7

Gimmeporn.xyz:

8

UPornia:

8

PornTry:

7

DaftSex:

9
Content Self Hosting

LetsJerk:

Hornybutt:

Gimmeporn.xyz:

UPornia:

PornTry:

DaftSex:

Preview On Hover

LetsJerk:

none

Hornybutt:

video

Gimmeporn.xyz:

none

UPornia:

video

PornTry:

video

DaftSex:

video
Filters

LetsJerk:

1

Hornybutt:

0

Gimmeporn.xyz:

0

UPornia:

2

PornTry:

2

DaftSex:

2
Sort By

LetsJerk:

3

Hornybutt:

4

Gimmeporn.xyz:

0

UPornia:

5

PornTry:

3

DaftSex:

3
languages

LetsJerk:

1

Hornybutt:

1

Gimmeporn.xyz:

1

UPornia:

10

PornTry:

1

DaftSex:

1