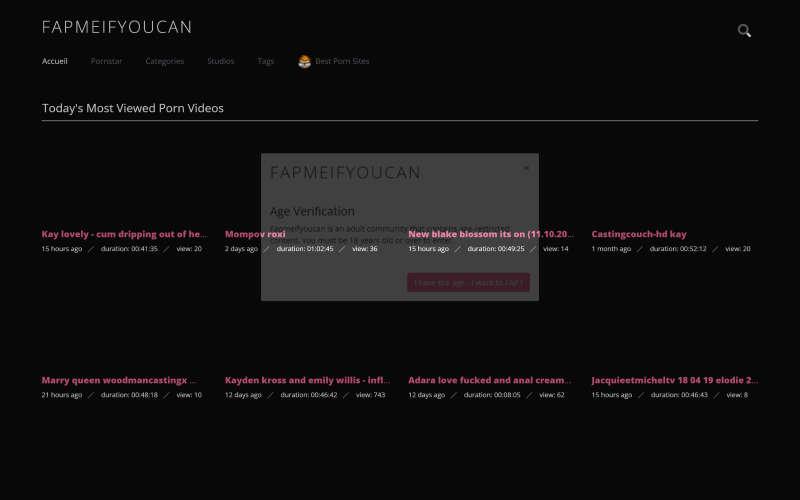 http://fapmeifyoucan.net/
free
pros
premium content

big collection

HD

the design does not totally suck
cons
lots of annoying ads

weak search features
This morning someone told me that the word "pornography" is from the Greek words "porne" prostitute and "graphos" to write or to record. So, in other words, pornography means "writing about prostitutes". Now you cannot say you haven't learned anything from me! Anyway, let's move on. Today I will tell you all about FapMeIfYouCan. Let's proceed.
For those of you who don't know FapMeIfYouCan yet, FapMeIfYouCan is a general adult videos site. Hence the content of the site is non-specialized. Instead, it offers a little something for everyone's taste.
On this site you will mostly find complete scenes. Those scenes can be stand-alone, or part of a movie. I will not play the suspense here. I should already tell you this: at the end of the day, FapMeIfYouCan is not the best site of its kind, but not the worst either. In short, it's a site to visit at least once.
Conveniently, you will not bankrupt yourself, the content is available for free. Now, for the time being, we should dive deeper into some of the things that make FapMeIfYouCan what it is.
Site features
The first thing we will be looking at is the design of the site. When you land on the site's home page, you will be greeted by an utterly common looking website. Just an ordinary looking porn site like a hundred others out there. Nothing fancy. That's pretty simple, but it gets the job done, and no website needs more than that, now does it.
When you hover above any of the thumbnails, you get a preview that shows you an actual mini video of the action rather than still images taken from the video, which I really like.
The video player is more or less OK. Buffering is still decent, but it doesn't look as crisp as you'd expect. The video player will fail on occasion.
As far as ads are concerned, unluckily, I must say that it could hardly be worse. This is insane! The pop-ups are unbearable without a good adblocker. A very bad point for FapMeIfYouCan.
The site is only available in English.
For the next part of this features analysis, let's have a look at one of the most important features a porn site must implement: the search feature.
The search box is the first part of the search function you will see. It allows users to find what they want straight away. Unfortunately, when you use the search bar with more than one term, the operator OR is implied. This will reduce the precision of multiple terms searches. Unluckily, there are no filters available but the sorting options available are upload-date and views.
How information is organized and presented is vital if you want to find things quickly. Here on FapMeIfYouCan, you have both categories and tags to help you find your favorite kind of porn.
With all this, searching on FapMeIfYouCan is ok if what you are looking for is not too specific, but you may have to try several times to find the kind of porn you like. This could use some improvements...
FapMeIfYouCan content
How about the quality of the average video here? Are there many videos here? Are there rotting links? Those are all the questions we are about to answer.
As I mentioned earlier, FapMeIfYouCan is a general porn tubes site and its content consists mainly of full scenes. Furthermore, there arn't any Gay or Shemale content here.
Well, the video quality is insane. Much better, actually, than on most porn sites. If you are looking for professional-grade videos, then you've come to the right place. Such quality on a free site is just incredible! Also, you will find no low-resolution videos here. Only HD.
Full scenes are the standard here. As such, you will not be bothered by low-quality short videos extracts here. They have a quality standard and it shows.
One of FapMeIfYouCan's major selling points is its huge collection of content. You'll literally find millions upon millions of videos on here that will never cease to entertain you. This is nice, especially when you get it for free.
Is FapMeIfYouCan a good site?
Honestly, if FapMeIfYouCan is not the best free porn site out there, it is not the worst either.
The website offers premium quality content, is very big, offers HD quality videos, and is not ugly. However, the site is full of annoying ads, and is not the best when it comes to the search feature.
Even if it is not perfect, FapMeIfYouCan is definitely a top-tier must-visit site. Be sure to check FapMeIfYouCan out!
FapMeIfYouCan desktop
FapMeIfYouCan mobile
FapMeIfYouCan infos
tags

general site

streaming

orientations

straight

gay

shemale

Content Types

videos

tubes

scenes

Business Model

free

languages

English

Content Self Hosting

true

Preview On Hover

video

Filters

Search Operator

OR

Grouping Features

tags

categories

pornstars
FapMeIfYouCan
Hornybutt
Gimmeporn.xyz
UPornia
PornTry
DaftSex
Rating

FapMeIfYouCan:

5.7

Hornybutt:

6.1

Gimmeporn.xyz:

6.4

UPornia:

6.9

PornTry:

6.4

DaftSex:

6.3
Content Quality

FapMeIfYouCan:

9

Hornybutt:

9

Gimmeporn.xyz:

9

UPornia:

8

PornTry:

9

DaftSex:

8
Content Quantity

FapMeIfYouCan:

7

Hornybutt:

5

Gimmeporn.xyz:

5

UPornia:

7

PornTry:

7

DaftSex:

8
Unavailable Content

FapMeIfYouCan:

6

Hornybutt:

7

Gimmeporn.xyz:

6

UPornia:

8

PornTry:

8

DaftSex:

6
Search

FapMeIfYouCan:

4

Hornybutt:

6

Gimmeporn.xyz:

6

UPornia:

6

PornTry:

5

DaftSex:

3
Player Quality

FapMeIfYouCan:

5

Hornybutt:

5

Gimmeporn.xyz:

6

UPornia:

7

PornTry:

8

DaftSex:

6
Site Layout

FapMeIfYouCan:

6

Hornybutt:

5

Gimmeporn.xyz:

7

UPornia:

7

PornTry:

7

DaftSex:

7
Annoying Ads

FapMeIfYouCan:

3

Hornybutt:

6

Gimmeporn.xyz:

6

UPornia:

5

PornTry:

3

DaftSex:

6
Piracy

FapMeIfYouCan:

4

Hornybutt:

5

Gimmeporn.xyz:

5

UPornia:

6

PornTry:

4

DaftSex:

4
Love Factor

FapMeIfYouCan:

7

Hornybutt:

7

Gimmeporn.xyz:

8

UPornia:

8

PornTry:

7

DaftSex:

9
Content Self Hosting

FapMeIfYouCan:

Hornybutt:

Gimmeporn.xyz:

UPornia:

PornTry:

DaftSex:

Preview On Hover

FapMeIfYouCan:

video

Hornybutt:

video

Gimmeporn.xyz:

none

UPornia:

video

PornTry:

video

DaftSex:

video
Filters

FapMeIfYouCan:

0

Hornybutt:

0

Gimmeporn.xyz:

0

UPornia:

2

PornTry:

2

DaftSex:

2
Sort By

FapMeIfYouCan:

2

Hornybutt:

4

Gimmeporn.xyz:

0

UPornia:

5

PornTry:

3

DaftSex:

3
languages

FapMeIfYouCan:

1

Hornybutt:

1

Gimmeporn.xyz:

1

UPornia:

10

PornTry:

1

DaftSex:

1