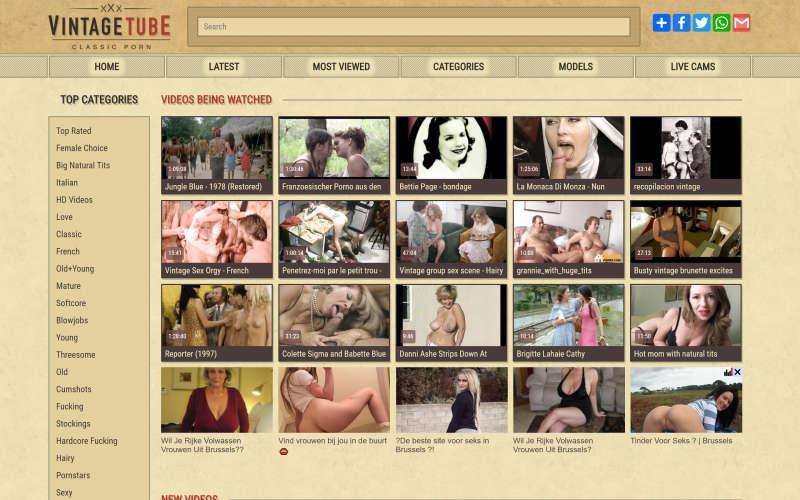 https://vintagetube.xxx/
free
pros
top quality content

quite good video player
cons
bad search feature

use of ads, nonetheless

not as many videos

no tags whatsoever
I just read somewhere that porn revenue is more than the combined revenues of ABC, CBS, and NBC $6.2 billion. So why am I not rich yet? But I feel like I digress. Let's get back to today's subject: VintageTube. Is it any good? Well, let's see!
To begin with, VintageTube is an adult videos site whose content focuses on vintage porn.
Like many similar tube sites out there, VintageTube built its content from user-uploaded videos. As a result, the video length and quality may vary a lot. I will not play the suspense here. I will already tell you that all in all, VintageTube is not the greatest site I have ever seen, but not the worst either. In a nutshell, it's a site to visit at least once.
And I have good news for you: you will not need your credit card, VintageTube is a free site. Now, we should jump straight into the action and see what we're dealing with here.
Site features
To begin with, we should take a look at how good the design is. Each time I visit the site, I am struck by how usual the design is. The homepage is convenient. It has all the usual sections you need to enjoy your porn. It is basic and without character. But it gets the job done and that is all we need right? After all, not every site can be as beautiful as AdultSitesHub right?
As a nice touch it shows you a short video preview of what's about to happen in the video if you hover with your mouse over a thumbnail.
The video player fulfills its purpose. Nothing special here. I didn't have to wait too long for the videos to load. The media player may fail every now and then.
Although the ads could certainly be much worse, obviously the ideal situation would be no ads at all. While this may be true, the ads on VintageTube are not those aggressive ads that pop open a few tabs or even a few windows, these are the ads that you don't mind seeing. Many other sites do the same.
The site is only available in English.
One of the most indispensable features a porn site must implement is the search feature. A great site search experience combines fast and relevant search results with a great post-search discovery experience that allows users to filter results, browse different categories of content, and even recommends related and popular searches. Let's see how good VintageTube is when it comes to finding things.
To begin with, when I tried VintageTube's search bar, it didn't work. Why VintageTube would think its search bar does not need to be working properly is beyond me. Furthermore, you cannot filter the content. You can sort by upload-date, rating, length and views.
There are categories but, alas, there is no tagging system in place. And there are no playlists either.
At the end of the day, on VintageTube the search feature is well below average. In fact, it is so bad that it may take hours to find the video you are looking for. And you may even end up not finding it!
VintageTube content
There is a very popular phrase, sometimes referred to as the "content is king quote", made famous by Bill Gates. It also applies to porn sites. Without good content, a porn site is nothing.
As I said in the intro, VintageTube specializes in vintage porn and its content consists mostly of clips of various lengths as well as full scenes.
VintageTube shows some of the finest porn videos in the industry. You can see plenty of premium content on this website. Such quality on a free site is just incredible! Moreover, a good chunk of the videos is available in HD.
Regarding the length of the videos, VintageTube is in line with most of the other tubes sites. Clips of various lengths, and maybe some occasional full scenes and movies, although I have to say that it is not the most common thing in here.
Their collection of content is big enough. You won't have any problem finding just about anything that you could be looking for.
Is VintageTube a good site?
Overall, I would say that it's an okay site.
The site has an amazing video quality, and an okay video player. At the same time, the site has search options are lacking, ads that can get somewhat annoying, not the biggest collection, and no tags whatsoever.
Despite its flaws, VintageTube is a site worth visiting! Enjoy!
VintageTube desktop
VintageTube mobile
VintageTube infos
orientations

straight

gay

shemale

Content Types

videos

tubes

clips

scenes

Business Model

free

languages

English

Content Self Hosting

true

Preview On Hover

video

Filters

Sort By

upload-date

rating

length

views

Search Operator

not-working

Grouping Features

categories

pornstars