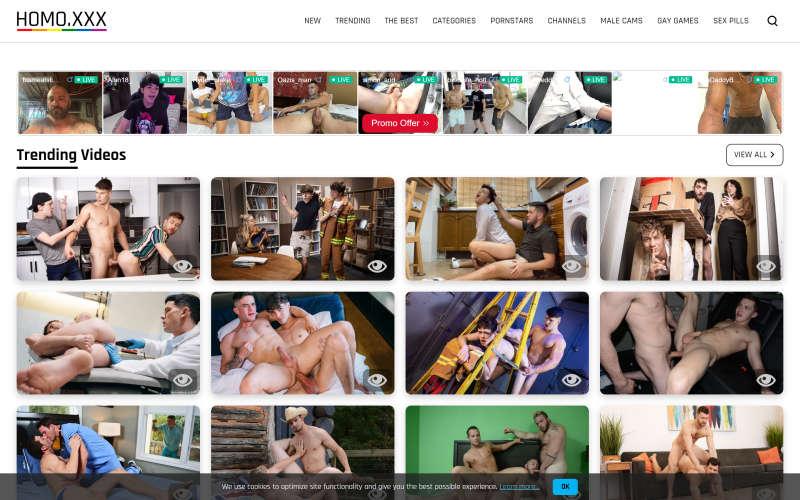 pros
modern look and amazing feel to the site

quality of the video player

HD
cons
not any filters

no sorting options

a few adverts
This morning I read that it is illegal in Australia except in two states to sell or rent any X-rated materials. Come on Australia. You are better than this. Open up a little! Anyway, let's focus on today's subject: Homo.xxx. Will it become your next source of daily porn? Let's see, shall we!
For those of you who don't know Homo.xxx yet, Homo.xxx is a porn videos site specializing in gay content.
Like many similar tube sites out there today, Homo.xxx built its content from community-uploaded videos. Hence the length and the quality of the material may vary quite a lot from one video to another. I will not let the suspense kill you and I can already tell you this: all things considered, Homo.xxx is an okay site. In a nutshell, it is a good site to know.
And I have good news for you: you cheap-ass bastards will be happy to hear that the site is totally free. Now it is time to have a closer look at some of the things that make Homo.xxx what it is.
Site features
We are going to start our review with the site design. When I landed on the site, the first thing I saw was the divine design. The first impression is great. The colors are well chosen. I also think the general site organization is worth giving some praise to. A perfect example of a porn site done right. I cannot find words strong enough to describe how gorgeous Homo.xxx looks.
Hover your mouse over any of the thumbnails and you get a preview that shows you an actual mini video of the action rather than still images taken from the video, which I really like.
Moreover, the video player is very good. The streaming speed is super fast and there is almost no buffering. No streaming errors either.
During my visit, I saw some ads. However, it's not a deal-breaker, but they were annoying nonetheless. Sure, you may have a couple of ads to ignore here and there, but, still, that seems like a small price to pay.
The site is only available in English.
Without transition, we will have a look at one of the most important features a porn site must implement: the search feature.
Firstly, when a website grows significantly, locating an exact item is like finding a needle in an ever-growing haystack. Luckily, a search bar allows users to find the porn they want effortlessly. Regrettably, you can't filter the search results and you cannot sort the content either.
Users can browse categories if they aren't looking for something too specific but, alas, there is no tagging system. And you cannot build playlists either.
To cut a long story short, searching on Homo.xxx is ok for searches simple enough, but it may take a few minutes to find your favorite porn.
Homo.xxx content
Site design, tags, categories, search and all are things that do matter, but, without good videos, a porn site is nothing. After all, we just need good videos to fap on.
As I said in the intro section, Homo.xxx specializes in gay content and its content consists mainly of clips of various lengths.
All in all, the content is not bad. There is both good and bad content here. Average content is not a problem here. But I could use some good filters here to help remove some less-than-average videos. Too bad, there is none! Also, you will find no low-resolution videos here. Just full HD.
There are enough long clips to make up for the shorter ones.
The video catalog is massive. You should not run out of content to enjoy too quickly.
Is Homo.xxx a good site?
Overall, I think if Homo.xxx is not the best free porn site I have ever seen, it is not the worst either.
It is easy to navigate, is quick to load the videos, and offers exclusively HD quality porn. At the same time, it is lacking filters, lacks sorting options, and displays a few ads.
In conclusion, I would say that even if it is not perfect, Homo.xxx is definitely a must-visit porn site!
Homo.xxx desktop
Homo.xxx mobile
Homo.xxx infos
orientations

straight

gay

shemale

Content Types

videos

tubes

clips

Business Model

free

languages

English

Content Self Hosting

true

Preview On Hover

video

Filters

Sort By

Search Operator

AND

Grouping Features

categories

channels

pornstars
Homo.xxx
Gay.bingo
BoyfriendTV
GotGayPorn
TheGay
MrGay
Rating

Homo.xxx:

5.9

Gay.bingo:

6.8

BoyfriendTV:

6.4

GotGayPorn:

6.2

TheGay:

6.2

MrGay:

6.1
Content Quality

Homo.xxx:

6

Gay.bingo:

6

BoyfriendTV:

6

GotGayPorn:

7

TheGay:

7

MrGay:

5
Content Quantity

Homo.xxx:

5

Gay.bingo:

7

BoyfriendTV:

7

GotGayPorn:

5

TheGay:

8

MrGay:

7
Unavailable Content

Homo.xxx:

7

Gay.bingo:

7

BoyfriendTV:

7

GotGayPorn:

7

TheGay:

7

MrGay:

7
Search

Homo.xxx:

5

Gay.bingo:

8

BoyfriendTV:

5

GotGayPorn:

5

TheGay:

5

MrGay:

5
Player Quality

Homo.xxx:

7

Gay.bingo:

7

BoyfriendTV:

7

GotGayPorn:

7

TheGay:

6

MrGay:

7
Site Layout

Homo.xxx:

7

Gay.bingo:

7

BoyfriendTV:

7

GotGayPorn:

6

TheGay:

5

MrGay:

7
Annoying Ads

Homo.xxx:

4

Gay.bingo:

6

BoyfriendTV:

6

GotGayPorn:

6

TheGay:

5

MrGay:

6
Piracy

Homo.xxx:

6

Gay.bingo:

6

BoyfriendTV:

6

GotGayPorn:

6

TheGay:

6

MrGay:

6
Love Factor

Homo.xxx:

6

Gay.bingo:

7

BoyfriendTV:

7

GotGayPorn:

7

TheGay:

7

MrGay:

5
Content Self Hosting

Homo.xxx:

Gay.bingo:

BoyfriendTV:

GotGayPorn:

TheGay:

MrGay:

Preview On Hover

Homo.xxx:

video

Gay.bingo:

video

BoyfriendTV:

video

GotGayPorn:

images

TheGay:

none

MrGay:

video
Filters

Homo.xxx:

0

Gay.bingo:

2

BoyfriendTV:

2

GotGayPorn:

0

TheGay:

3

MrGay:

1
Sort By

Homo.xxx:

0

Gay.bingo:

3

BoyfriendTV:

5

GotGayPorn:

4

TheGay:

5

MrGay:

5
languages

Homo.xxx:

1

Gay.bingo:

11

BoyfriendTV:

1

GotGayPorn:

1

TheGay:

10

MrGay:

1