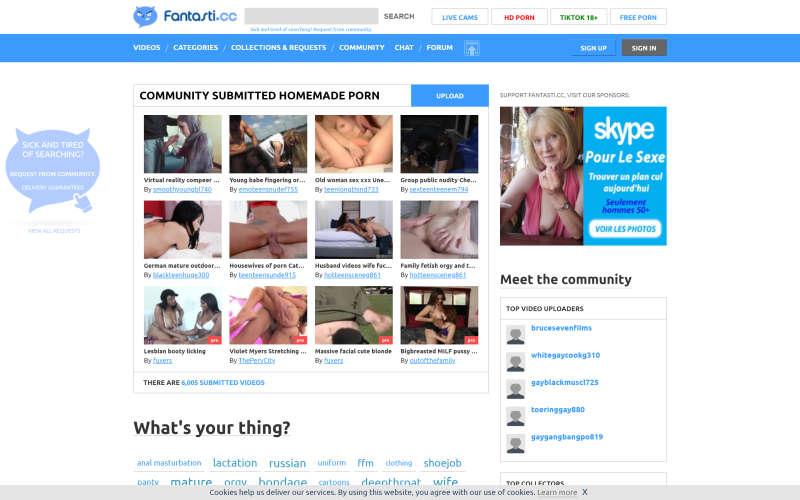 cons
poor user experience

lots of broken/non-working videos

search feature not up to par

not any filters

external content hosting

a few adverts
Yesterday, I read that around 33% of porn users are women. Special shout out to you ladies who are fans of my site. Anyway, I would like to tell you about this website known as Fantasti.cc.
For those of you who don't know Fantasti.cc yet, Fantasti.cc is a general adult videos site. The "general" part of the description means that the site does not specialize in one small niche or fetish.
The videos of Fantasti.cc are clips uploaded by its community. Hence the videos may vary a lot both in terms of length and quality. I will not play the suspense here. I should already tell you that all in all, Fantasti.cc is a somewhat disappointing site. Regardless, there is still a bright side to everything.
And the good news is: you do not need to pay for anything, Fantasti.cc is a free site. With that in mind, let's take a closer look at what the site has to offer.
Site features
Let's get started with the design of the site. When you open Fantasti.cc's home page, you will be horrified by how crappy the design is. It looks like an old site, it seems like all design elements have just one task – getting in the face of the user. The layout is just uninteresting. I am sad to report that Fantasti.cc has one of the most atrocious designs I have ever encountered. All I can say is that it is just a hot visual mess!
The video thumbnails do not issue any sort of preview if you hover your cursor above them. This is a pity.
The site uses videos hosted on other sites. Therefore it does not have its own media player. As a rule of thumb using an external video player is almost always bad. Your users get extra ads, multiples clicks are often needed to read the video and the experience is just not nice. Moreover, you may end up with a lot of broken links. With that being said, when I was playing videos from Fantasti.cc I would say that it was not that bad.
The ads here can be a bit irritating, as they usually are. Nonetheless, even without any ad-blocker, you don't have to deal with that many redirects or anything. Just your regular sort of ad experience. But you will get used to the annoying ads eventually.
Fantasti.cc is only available in English.
Another feature we will be looking at is the search feature. What is the point of having the best porn scene ever if nobody can find it? Let's see how long it takes to find the content you are looking for on the site.
The search bar is the first part of the search function you will see. It will give you the option to find your favorite kind of porn fast. Unfortunately, the search bar implements the OR operator by default. OR searches find one term or the other. Searching on MILF OR anal OR blond returns all items that contain any of the three search terms. This will make it more difficult to find good results for searches with multiple keywords. Regrettably, you can't further reduce the results as there are no filters available but you can sort by upload-date, rating, length and views.
You can browse categories if you are not looking for something too specific but there is no tagging system in place. And there are no playlists either.
To cut a long story short, I would say that finding what you are looking for on Fantasti.cc is so painful that it may take hours to find the video you are looking for. And you may even end up not finding it!
Fantasti.cc content
"Content is where I expect much of the real money will be made on the Internet." This famous sentence, authored by no less than Bill Gates himself, states loud and clear how important content is. The content of a porn site is the main factor to determine if it will succeed or fail.
As I said in the intro section, Fantasti.cc does not specialize in a particular porn niche and the videos are mainly clips of various lengths. Moreover, Straight, Gay and Shemale videos are available.
All in all, the content is not bad. You will find good and bad videos here. Average content is not a problem here. But a good length filter would be useful here! Too bad, there is none! Furthermore, the average video resolution is OK.
The average video is long enough to live up to my quality standard.
The video collection of Fantasti.cc is very large. I'm sure you'll find everything you could need. Besides, there are so many broken links! When you click on a thumbnail, you never know if the link will be working.
Is Fantasti.cc a good site?
Sadly, Fantasti.cc works just fine, even though there is plenty of room for improvement.
Its main selling point is the many sorting options. However, its user experience is unpleasant, its videos will not play most often than not, its search feature is weak, its filters are lacking, its videos are hosted on third-party sites, and its ads may become annoying.
So, the question is: are you truly that desperate? If you are, you may want to pay a visit to Fantasti.cc. Otherwise, you may as well find another better site to spend your time on.
Fantasti.cc desktop
Fantasti.cc mobile
Fantasti.cc infos
tags

general site

streaming

aggregator

orientations

straight

gay

shemale

Content Types

videos

tubes

clips

Business Model

free

languages

English

Content Self Hosting

false

Preview On Hover

none

Filters

Sort By

upload-date

rating

length

views

Search Operator

OR

Grouping Features

categories