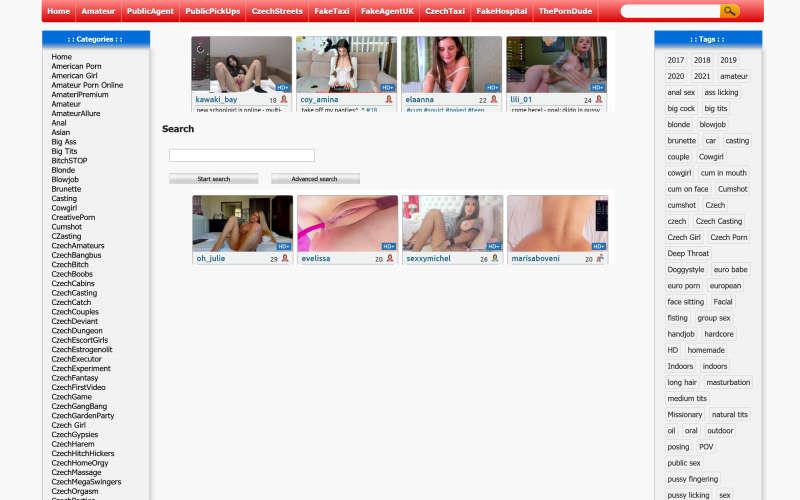 https://czechvideo.org/
free
pros
top-shelf smut

high-definition porn
cons
piracy?

you can't sort search results

external video hosting

ads not many, but still
If you have ever tried to find a good porn site by yourself on Google, you know that it is not that easy. You will find porn, sure, but good porn? Maybe a tiny little bit. Maybe a few drops... But If you want to flood your life with good porn, there is only one place: AdultSitesHub and all the good places it recommends. But will CzechVideo help us with our good porn flooding? Let's find out!
For those of you who don't know CzechVideo yet, CzechVideo is an adult videos site with content focused on czech porn.
The content of this site consists of full scenes. Those scenes can be stand-alone, or part of a movie. What I can already tell you is that all in all, CzechVideo is not the greatest site in its category, but it is close enough. In short, it is a good site to know.
As a bonus, absolutely no credit card is needed: the content is available for free. Now, we should have a look at some of the things that make CzechVideo what it is.
Site features
The first thing we will be looking at is the design of the site. The first time I landed on CzechVideo's home page, I immediately noticed that the design was completely mundane. CzechVideo has about the same design as every other site of its kind. Nothing to write home about. Don't get me wrong, CzechVideo's design may not be the best, but it gets the job done and that is all we need right?
None of the video thumbnails provide previews when you hover with your cursor above them. You have to decide if you want to load the full video page based on one thumbnail only.
The site uses external videos. Because of this it does not have its own video player. For a porn site, using an external media player to play your videos is almost always bad. You need multiples clicks to read the video, you get extra ads and the experience is just not fluid. Moreover, the broken links will soon begin to pile up. Having said that, when I was streaming videos from CzechVideo I would say that it was not that bad.
Regarding the presence of ads on the site, CzechVideo is far from being the worst. With an ad-blocker running, the situation on CzechVideo is annoying but not so bad it's going to prevent you from enjoying the site. Anyway, it's like that everywhere.
The site is only available in English.
Now, we are going to have a look at the search features: all those functionalities that let users find the porn videos they want faster.
For starters, if you have a well-developed porn site, it's difficult for the users to check out all the pages to find out what they are looking for. Also, none has the time or patience to look through the entire website. Fortunately, a search bar allows users to find the porn they are looking for quickly. You can filter only by upload-date and you can't sort the content.
The second part of the search feature is the content classification. Here on CzechVideo, you have both categories and tags to help you find your favorite kind of porn.
All this makes finding what you are looking for on CzechVideo ok for simple searches, but finding the kind of video you like can sometimes be more difficult than expected.
CzechVideo content
How reliable search is and how annoying the spam is are key things to keep in mind, but, when it comes to a porn site, the first thing I want to know is how good the content is. After all, I just need good videos to fap on.
As stated in the introduction, CzechVideo specializes in czech content and the videos are mainly full scenes.
Overall, the content quality on this website is amazing. A lot of the content is premium quality. The quality here is just awesome for a free site! In addition, the video's resolution is very good.
As I said before, the site's content is mostly full scenes. Therefore, you are less likely to be bothered by cheap short videos here.
CzechVideo's video catalog is enormous. You should not run out of content to watch too quickly.
Is CzechVideo a good site?
All in all, I would say that CzechVideo is quite good.
Its video quality is amazing, and its content is high-definition only. At the same time, the website has content that may not be totally legal, no "sort by" options, a content that is not self-hosted, and a few ads.
Now, the million-dollar question is: is CzechVideo a must-visit website? Well, despite its flaws, this website could have some good surprises in store for you. But don't take my word for it and see for yourself!
CzechVideo desktop
CzechVideo mobile
CzechVideo infos
orientations

straight

gay

shemale

Content Types

videos

tubes

scenes

Business Model

free

languages

English

Content Self Hosting

false

Preview On Hover

none

Sort By

Search Operator

AND

Grouping Features

tags

categories
CzechVideo
Casting-porno-tube
IcePornCasting
Rating

CzechVideo:

5.6

Casting-porno-tube:

5.4

IcePornCasting:

4.9
Content Quality

CzechVideo:

8

Casting-porno-tube:

7

IcePornCasting:

8
Content Quantity

CzechVideo:

5

Casting-porno-tube:

3

IcePornCasting:

2
Unavailable Content

CzechVideo:

8

Casting-porno-tube:

6

IcePornCasting:

5
Search

CzechVideo:

5

Casting-porno-tube:

6

IcePornCasting:

5
Player Quality

CzechVideo:

5

Casting-porno-tube:

5

IcePornCasting:

6
Site Layout

CzechVideo:

6

Casting-porno-tube:

5

IcePornCasting:

5
Annoying Ads

CzechVideo:

4

Casting-porno-tube:

6

IcePornCasting:

6
Piracy

CzechVideo:

2

Casting-porno-tube:

4

IcePornCasting:

3
Love Factor

CzechVideo:

7

Casting-porno-tube:

7

IcePornCasting:

4
Content Self Hosting

CzechVideo:

Casting-porno-tube:

IcePornCasting:

Preview On Hover

CzechVideo:

none

Casting-porno-tube:

none

IcePornCasting:

none
Filters

CzechVideo:

1

Casting-porno-tube:

0

IcePornCasting:

0
Sort By

CzechVideo:

0

Casting-porno-tube:

5

IcePornCasting:

4
languages

CzechVideo:

1

Casting-porno-tube:

1

IcePornCasting:

1