How to Stay Safe on Porn Sites
How to Browse Porn Sites Safely Without Getting Hacked (or Worse)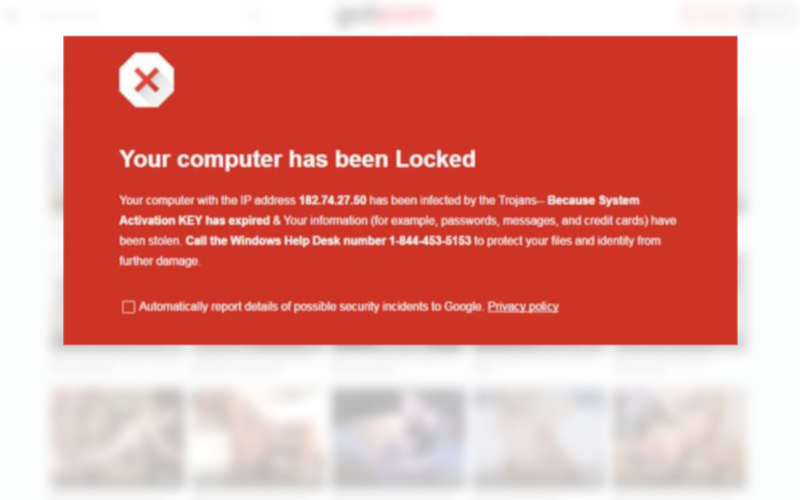 Paul was a man in his 30's who enjoyed browsing porn sites in his free time and didn't think twice about visiting some sketchy websites to satisfy his cravings. However, one day he realized that he had made a huge mistake.
Unknown to him, his computer had been compromised by malware that had been silently installed during one of his browsing sessions. The malware had recorded his password to all his online accounts via a key logger, giving hackers access to his personal information.
At first, Paul didn't notice anything was wrong until he lost access to his social network accounts. But his shock and horror only intensified when he discovered that all his bitcoins had been stolen. To make matters worse, his hard drive was now encrypted, which meant he had lost access to some professional documents, leading to him being fired from his job.
As if that wasn't enough, Paul received an email threatening to expose his online activities. He felt violated, exposed, and powerless. He knew he should have taken his online security more seriously.
The moral of Paul's story is clear: do not be like him. Take your online security seriously, and always be cautious when browsing sketchy websites. Remember, prevention is always better than cure when it comes to online security.
As the internet filled with adult content, it's not uncommon to come across porn sites that are less than trustworthy. Whether it's an obscure tube site or one offering free downloads of copyrighted material, it's important to know how to browse these sketchy sites safely.
In this article, we'll provide you with some tips and tricks to stay safe online, so you can browse with confidence and avoid falling victim to scams, malware, or other online threats.
Understand the Risks
Before diving into the world online porn, it's important to understand the risks involved. Here are some of the most common risks associated with browsing porn sites:
1. Virus: Malwares, Scarewares and Adware
Malware is short for malicious software. It is any type of software designed to cause harm to your computer or steal information. Malware can come in many forms, such as viruses, worms, Trojan horses, ransomware, and spyware. Malware, or malicious software, can infect your device and steal your personal information, damage your system, or even use your device as part of a larger network of infected devices (known as a botnet) to perform harmful activities.
Scareware is a type of software that tricks users into thinking that their device is infected with malware, and then offers to sell them a solution to fix the problem. In reality, the scareware is often a scam that either installs actual malware or does nothing at all.
Adware is software that displays unwanted advertisements on your device, often in the form of pop-up windows or banners. Not only can this be annoying, but it can also slow down your device and increase your risk of accidentally clicking on malicious ads.
There are several main vectors of malware infections on sketchy websites, including:
Drive-by downloads: Malware can be automatically downloaded when a user visits a compromised or malicious website.

File sharing: Malware can be disguised as legitimate content and shared on peer-to-peer networks.

Malvertising: Malicious advertising, or malvertising, is another common method used to distribute malware. Hackers create ads that look legitimate but actually contain malicious code. These ads are then placed on sketchy websites, where unsuspecting users may click on them and unknowingly infect their computers.

Exploit Kits: Exploit kits are collections of software tools that hackers use to exploit vulnerabilities in users' software and infect their computers with malware. Malicious porn sites may use exploit kits to deliver malware to users who visit their site.
Websites that have a lot of pop-up ads, or that ask you to download software or click on links to external websites, may be risky. It's always a good idea to do your research and verify the legitimacy of a website before providing any personal information or downloading anything. When in doubt, just leave.
2. Scams: Phishing, Identity Theft and Blackmail
Phishing scams are fraudulent attempts to obtain sensitive information, such as usernames, passwords, and credit card details. These scams often involve fake emails or websites that look legitimate, but are designed to trick you into giving away your personal information.
Identity theft is the act of stealing someone's personal information and using it for fraudulent purposes. This can include stealing your credit card information, social security number, or other sensitive information.These scams can result in significant financial loss.
It's important to be cautious and skeptical when browsing any website, but there are certain types of websites that may be more likely to host scams, phishing, or identity theft. For example, websites that offer deals that seem too good to be true, or websites that ask for personal information such as bank account information, or passwords, should be approached with caution.
Visiting porn sites can also expose users to the risk of blackmail. These websites often have malicious actors who use tactics like recording users online activities and capturing their personal information to blackmail them. The attackers may use the collected data to threaten users with public exposure or harm to their reputation, finances, or personal relationships. They may also demand ransom payments to prevent the release of the sensitive information.
3. Legal Exposure:
Some porn sites may host illegal content, such as pirated movies for example. Accessing and downloading this content can put you at risk of legal action. Or even, in some countries the simple fact of watching porn is illegal!
Essential Precautions
To minimize the risks of browsing porn sites, it's important to take some essential precautions. Here is what you should do:
Use a reliable antivirus program:
Install and regularly update a reputable antivirus program to protect your system from malware. If you do only one thing, do this!
It is important to use a good anti-virus when browsing porn sites because these sites are often targeted by hackers and cybercriminals who distribute malware. Those malwares can infect your computer and compromise your personal information, such as login credentials, credit card numbers, and other sensitive data.
A good anti-virus can help protect your computer from these types of threats by detecting and removing malware before it can cause harm.
It can also provide real-time protection while you're browsing the web, warning you of potential threats and blocking malicious websites.
I cannot stress this enough: Installing a good anti-virus software is one of the most crucial steps to staying safe online. If you want to get a good anti-virus, you can find it here.
Use a Virtual Private Network (VPN):
A VPN can encrypt your internet connection and protect your online activity from prying eyes. If you do not have one already, you can pick one from the list here.
When you connect to the internet through a VPN, your online activity is routed through a remote server operated by the VPN provider. This means that your IP address and location are masked, making it more difficult for malicious actors to track your online movements and target you with scams or attacks.
Using a VPN can also protect you from the risk of legal exposure when browsing porn sites. In some countries or jurisdictions, accessing certain types of content, such as pornography or illegal downloads, may be against the law. When you use a VPN, your online activities are encrypted and routed through a remote server, making it difficult for third parties, including government agencies and internet service providers, to monitor your online activities and link them to your real-world identity.
This means that even if you accidentally stumble upon illegal content while browsing a sketchy website, your identity will be protected by the VPN, preventing any legal consequences that may result from accessing such content. It is important to note, however, that using a VPN does not give you free rein to engage in illegal activities online. It is still your responsibility to ensure that your online activities are legal and ethical, and to use a VPN for privacy and security purposes only.
In addition, a good VPN can offer other security features such as malware protection, ad-blocking, and even anti-phishing tools. This can further reduce the risk of harm when browsing potentially dangerous websites.
Other precautionary measures:
Enable your browser's security settings: Most browsers have security settings that can be adjusted to help protect against malicious websites. You can learn how to use safe browsing with chrome here.

Keep your software up-to-date: Make sure your operating system, browser, and plugins are updated with the latest security patches.

Be cautious with downloads: Only download files from trustworthy sources and be wary of executable files or files with unusual file extensions.

Use strong and unique passwords: Use strong passwords that are difficult to guess and use unique passwords for each website you visit. You can use the password manager of your browser to help you with this.

Disable Pop-ups: Pop-ups are often used to display advertisements or to trick users into downloading malware. By disabling pop-ups, users can prevent unwanted windows from opening and potentially harmful content from being displayed. Learn how to disable pop-ups in Google Chrome here.

Use an ad blocker: on many porn sites, sketchy ads are one of the main vector of malware infection. Blocking ads in the first place is a good practice in general when browsing porn. You ca do it with a browser extension, or use a VPN that also provides an ad-blocker, like Nord VPN.

Use a dedicated email: using a dedicated email address for online accounts can help prevent phishing attacks.
What to Do if You Encounter a Problem
Even if you take all the necessary precautions, there is still a chance that you may encounter a problem while browsing a sketchy website. In such cases, it is important to act quickly to minimize the damage. Here are some steps you can take if you encounter a problem:
Disconnect from the internet: If you suspect that your computer has been infected with malware, disconnecting from the internet can prevent it from spreading to other devices.
Run antivirus software: If you have antivirus software installed, run a full system scan to detect and remove any malicious programs.
Change your passwords: If you have entered any passwords on the sketchy website, change them immediately to prevent unauthorized access to your accounts.
Conclusion
While browsing sketchy websites can be tempting, it's important to be aware of the risks involved and take necessary precautions to protect yourself from online threats.
These risks include viruses, scams, and legal exposure, which can result in significant financial loss, compromise of personal information, or even legal action.
By following the essential precautions outlined in this article, such as using a reliable antivirus program and a virtual private network, you can browse with confidence and minimize the risk of falling victim to malicious activities online.
Remember, staying safe online should always be a top priority, even when browsing porn.